DropFunnels

- The Online Course Builder That's Optimized For Sales
Are you an online course creator who wants to share their knowledge, help others, and make as much money as possible?
DropFunnels has everything you need to do just that. Create, market, and sell professional online courses, regardless of your interests or skills. From housing a single course to creating an entire library of digital products to cross-sell, DropFunnels has one of the most robust, yet easy to execute course building softwares on the available on the internet.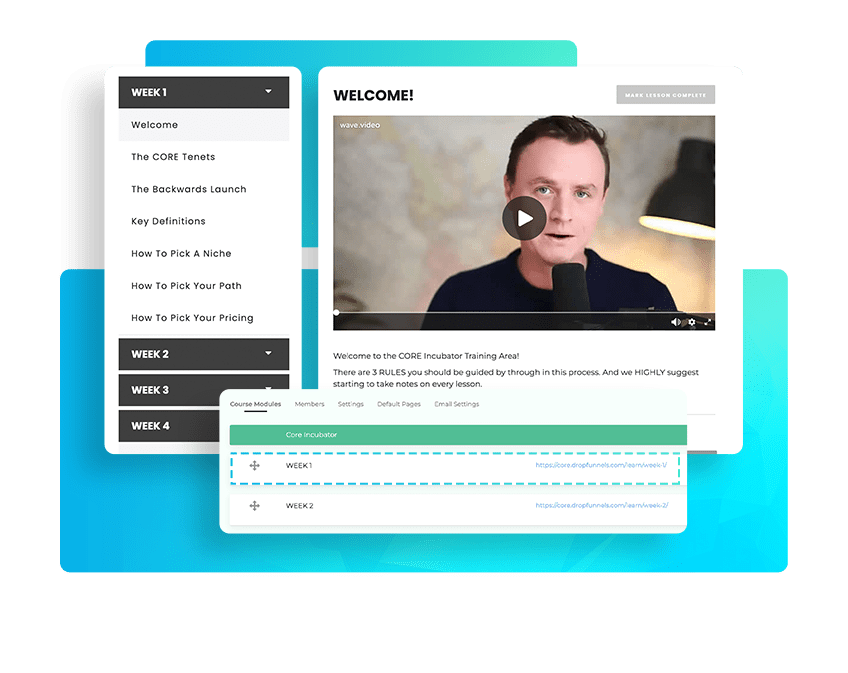 How Can I Use DropFunnels to Create an

Online Course?
DropFunnels empowers you, as a course creator, to grow your business by building and selling courses. Sharing information is a great way to make a positive impact in the world and build trust with your audience. If you already make free educational content or coach clients one-on-one, you can share what you know in an online course. The market for online courses is growing every day. With DropFunnels, you can start making a profitable course right away.
DropFunnels Features for

Course Creators
DropFunnels is the most effective way to create and customize your online courses.
You don't need to know how to code or use complicated plugins. We give you examples of sales funnels and course templates to make it easy to build and sell your digital courses. With our integrated funnel builder, you get a website that will help you sell your course on autopilot while you run your business.
In DropFunnels, your website and checkout process connect directly to your digital products. With all the tools you need in one easy-to-use platform, you can easily build and scale your course creator business.
Course Dashboard

+ Student Tracking
One of the biggest issues course creators experience is people buying their courses, but not completing the material. DropFunnels resolves this with a range of features:
Track your students progress at a glance and easily identify what lessons they've reached, and where they might be stuck.
Trigger personalized emails automatically when students complete lessons, pushing them to the next one, or when they've been stuck on a lesson for a number of days, offering support to help push them through
Create course quizzes to test students on their progress, reward them as they go, or use the data to add further lessons in your course.
Create an easy-to-navigate student dashboard so they can easily access the areas of the course they need to focus on.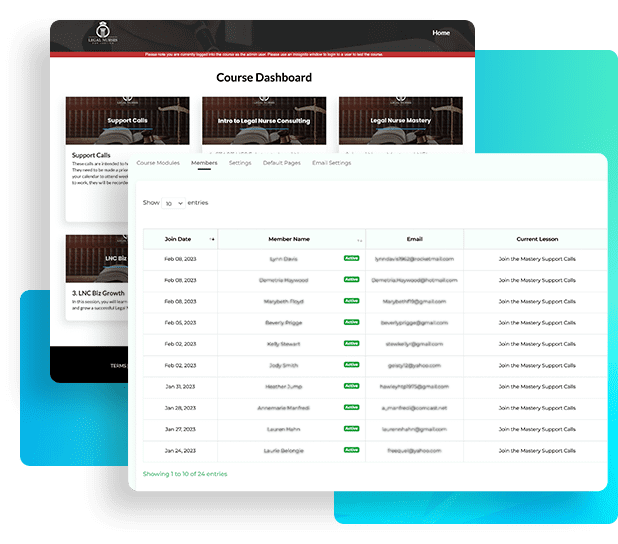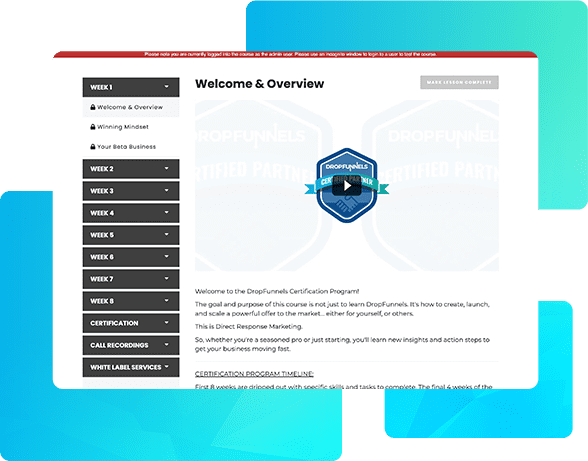 Video Courses

+ Document Downloads
DropFunnels gives you rich multimedia tools to make sure that your course is accessible to everyone.
Create video lessons, with videos hosted in DropFunnels or Third-Party tools like Vimeo, Wistia and YouTube.
Provide access to worksheets, guides and other learning material for students to download to accompany the course.
Link external resources using buttons so they have all the information they need just a click away.
Turn on comments so students feel like part of a community, and can interact with fellow course members, optimizing their learning experience
DropFunnels has a quiz builder that you can use to keep track of your student's progress in your course. Build course quizzes to help them reinforce key concepts in each module. Gamify your course by offering points and rewards. Use built-in conditional logic to guide your students to review a concept or move on to the next session. Our quiz builder gives you full control of the flow of your course.
It's easy to plan your course content and release it at just the right time. Create a tailored experience for your group coaching program or time-based challenges. DropFunnels gives you full control of your course design and pacing. You can make certain modules are mandatory or give your students the freedom to explore your whole course. Unleash your creativity and create any course you desire with DropFunnels.
With DropFunnels, you can add valuable bonuses to your offers with Course Access Levels. You can make a simple mini-course to attract new students. Then offer premium and advanced levels of learning, special worksheets, and 1:1 coaching. This allows your students to upgrade when they are ready. With DropFunnels, you can automate your revenue streams with minimal effort.
Have you already built your course on another platform? Dont stress! DropFunnels has a network of vetted experts that can help you move your course without sacrificing quality.
Click here to learn more about our network of expert providers and how they can help you use DropFunnels to sell as many online courses as possible.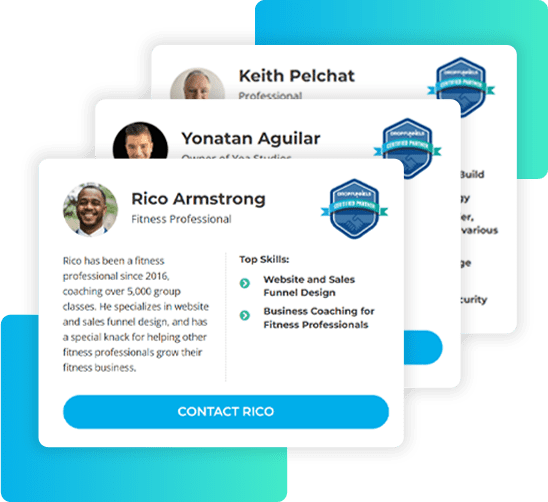 Monetize your expertise with

DropFunnels.
DropFunnels is the ultimate online course builder for coaches and experts.
Join The DropFunnels Family Today
Frequently Asked

Questions?
This site is not a part of Facebook and/or Google Inc. Additionally, this site is NOT endorsed by Facebook and/or Google in any way. FACEBOOK is a trademark of FACEBOOK, Inc.
Copyright 2023 | DropFunnels LLC | ALL RIGHTS RESERVED