The Best

SEO

for Blog Writers
Are you looking for a way to get more free traffic to your sales funnel or website? An SEO-optimized blog that consistently drives traffic to your business automatically, 24/7 is exactly what you need. DropFunnels lets you create beautiful blogs... with all the marketing tools you need already built in.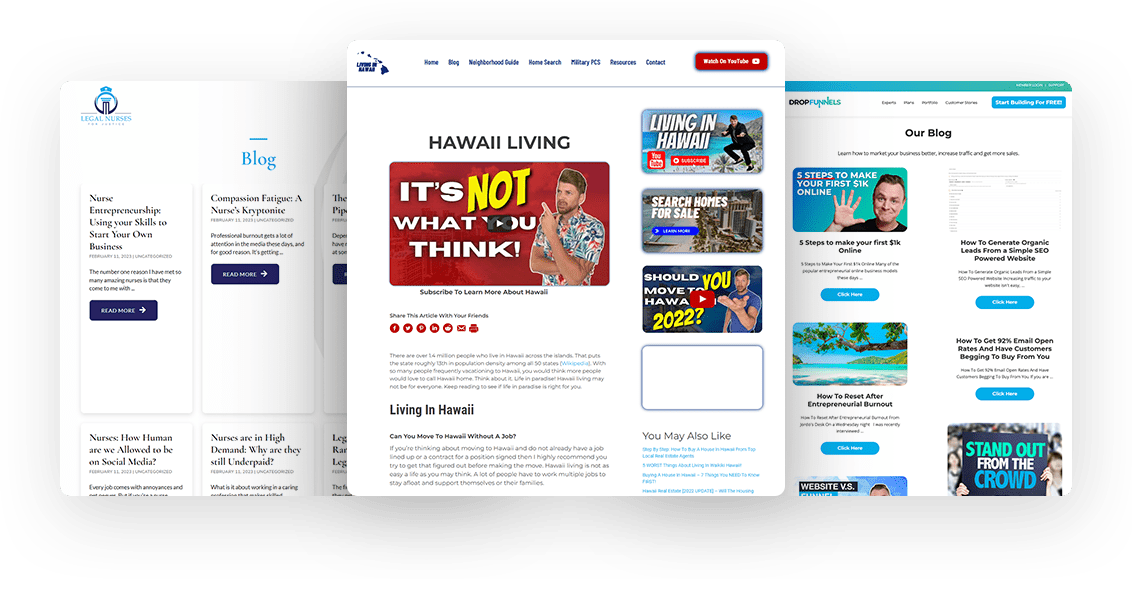 Do

Blogs and SEO

still work in 2023?
Definitely. By making content that is useful and interesting, you can establish yourself as an expert in your niche. Think about it - how much easier would it be to make a sale if it was to someone who was already researching for information you provide, who landed on your side willingly, who engaged with your content, and found it to be relevant and helpful to them? One word answer - really easy! (Okay, two words).
Keyword research is crucial - make sure your blogs answer the questions your customers are searching for. This makes it easier to build relationships with your audience by solving top-of-mind problems. SEO is a long-term strategy and sharing useful information will drive traffic to your funnel and website. If your blog becomes an authority, it's easier to build backlinks - which Google loves. Step up your blog game and start getting results right away.
Let's walk through an example…

For example, you're looking for a sales funnel or an all-in-one marketing solution for your business. You might search for something like "best funnel builders for coaches in 2023". From there, you'd see a list of results and you'd likely click on one of the first 5 links. A search engine-optimized article is going to appear higher in that list.

That article quickly answers your question, by comparing the top funnel-building tools and features that might be relevant to coaches, such as email marketing, upsells, and courses. You come to the conclusion that one of those platforms (DropFunnels would be one of them) is the right solution for you. So, perhaps you click on other links to learn more about that solution.
After clicking around some more, you realize that this site answers questions you didn't even know you had and adds a ton of value to your search. You see that they have the option to get updates from them, opt-in for a free e-book, or jump on a consultation call.

Because the site has already built trust with you by adding real value to you and continuing to help you solve your problems, you decide to join their ecosystem. You join their email list, membership community, or book a call with the team. Now, a healthy business relationship has been established through free organic search!
Unlimited Blogs

with DropFunnels
DropFunnels is an all-in-one platform for managing and optimizing your blog. Using DropFunnels, you can have your blog up and driving traffic in no time.
Optimizing your blog for search engines is easy with our SEO dashboard. You can add your unique brand to your blog using DropFunnels custom themes. Whether you're a seasoned blogger or just getting started, DropFunnels will help you get more organic traffic.
The Ultimate Plan from DropFunnels is for those who want to save time without sacrificing quality. You'll get all of the benefits of the standard plan, plus a custom blog layout designed to match your brand. We build the theme so you can concentrate on what really matters - creating great content. This custom layout ensures that your blog has a professional look and feel. This will help you establish credibility with your audience with a consistent online presence.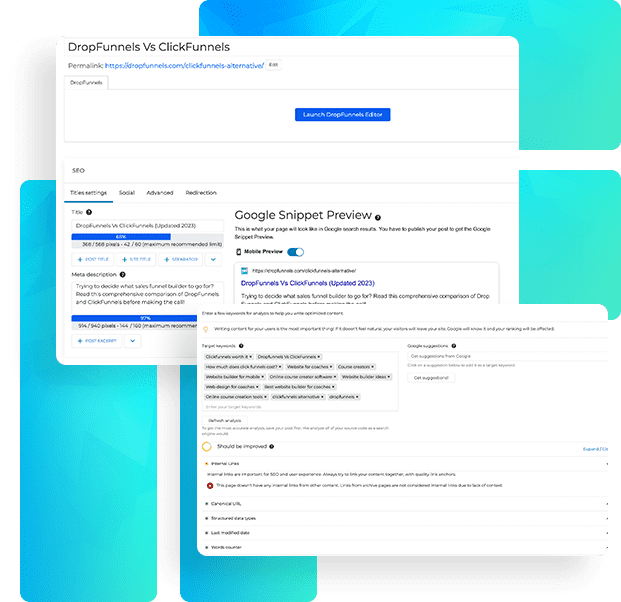 The SEO dashboard in DropFunnels is a powerful tool for identifying any gaps in your SEO strategy. It offers real-time analytics and insights into the performance of each blog post.
DropFunnels' SEO dashboard offers simple, yet clear tips so you can improve your rankings. With this data at your disposal, you can make educated decisions about your SEO strategy.
This is a feature not commonly seen in competitive SaaS companies. Normally, they expect you to know what to do, know what to look for, know what to fix, and know why you're fixing it. DropFunnels merges that gap and provides you with clear steps to optimize your SEO for faster, better, more consistent results.
You can be confident that your blog will reach its full potential and the right audience with DropFunnels.
DropFunnels makes it easy to refresh your content. Making sure that you have no broken links or outdated information is crucial. Regular updates keep your audience engaged.
They also signal to search engines that your site is active, which can help you rank higher in search results. DropFunnels' drag-and-drop editor makes it easy to add new content or change existing posts.
You can easily preview your changes in real-time. Don't let out-of-date content limit your blog; take control with DropFunnels today!
If you're ready to launch your blog, start today with our 14-day free trial.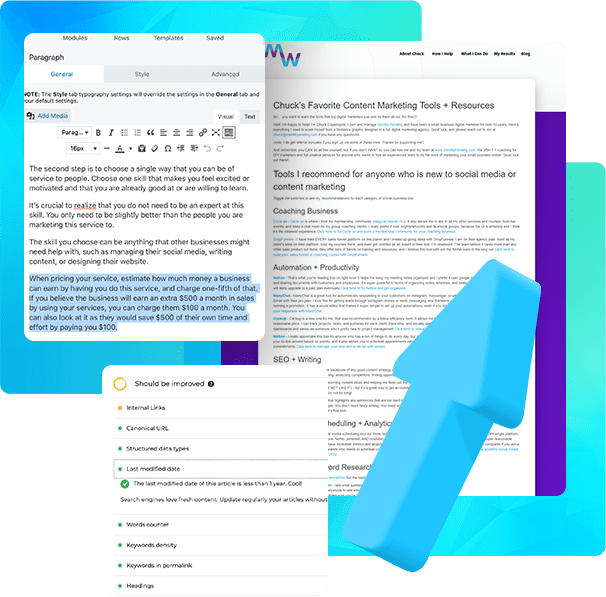 DropFunnels

is the all-in-one business website solution.
No code. No plugins. No nonsense.
Want to position yourself as an expert in your industry?
Frequently Asked

Questions?
This site is not a part of Facebook and/or Google Inc. Additionally, this site is NOT endorsed by Facebook and/or Google in any way. FACEBOOK is a trademark of FACEBOOK, Inc.
Copyright 2023 | DropFunnels LLC | ALL RIGHTS RESERVED