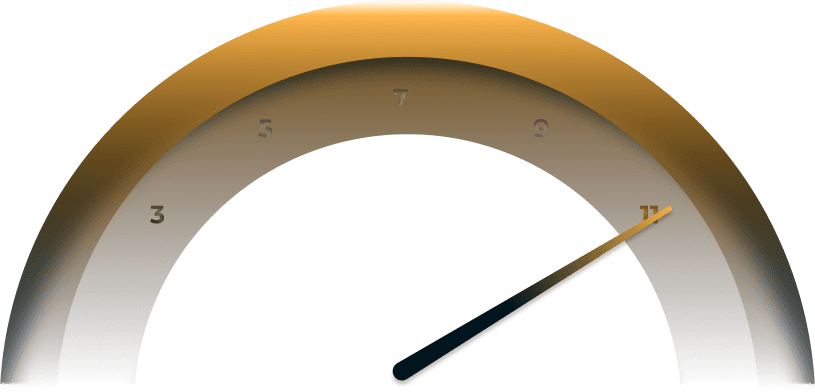 Customers who switch their sales funnels to DropFunnels see a 10%-60% decrease in lead costs, on average. Let us prove it to you, too!
"We saw a 60% boost
in the first week!" -John Temple
"DropFunnels have been a
game-changer for us!" -Dana Kay
"My pages went from loading in
14s to just 2s on mobile!" -Neil Elhurr
Blazing Fast Sales Funnel
Our powerful sales funnel infrastructure gives you FASTEST in-class page load speeds, which translates directly to higher conversions
Unlimited funnels with one-click order bumps, upsells, downsells, and fast-loading for maximum conversion from paid or organic traffic. Average page load time is under 2 seconds!

Integrates easily with Stripe, Paypal, NMI, Authorize.net, Infusionsoft, Active Campaign, Hubspot, Mailchimp, Aweber and many more

Hundreds of professional templates, or we'll build you custom designs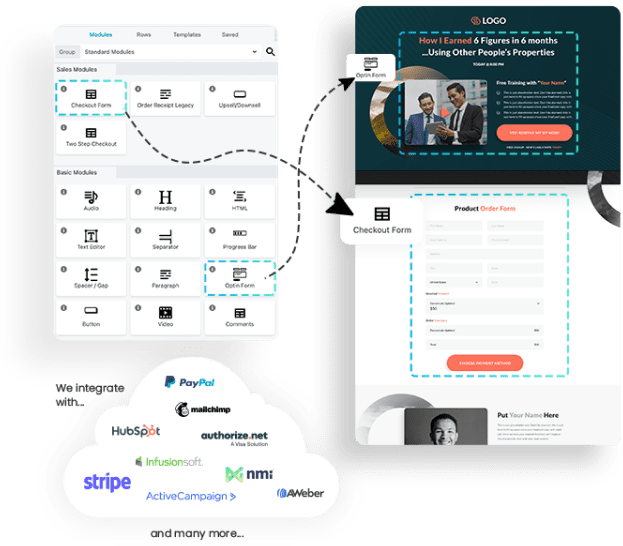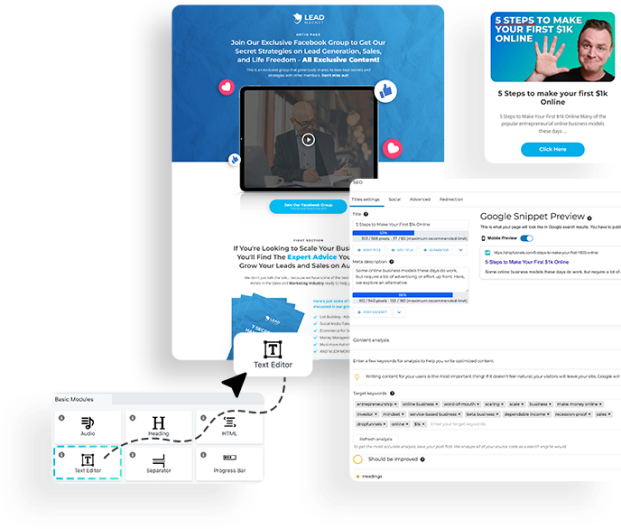 Get Ranked in Google with Authority Websites & Blogs
DropFunnels is built on the #1 ranking tech infrastructure favored by search engines.
Grow your rank and reputation with your own custom website and easy-to-use blog

Since DropFunnels is hosted for you on WordPress (which Google LOVES), you rank higher and faster than on any other platform, period

Hello free organic traffic!
Create Beautiful and Powerful Digital Courses
Get unlimited courses, with unlimited sub-courses, modules and lessons. Drip or Block content, and engage with comments from your students.

Build your dashboard, login pages, first-time welcome pages, and restricted access pages with pixel perfect design.

When users checkout on your sales funnel, they get instant access to your course, based on what they purchase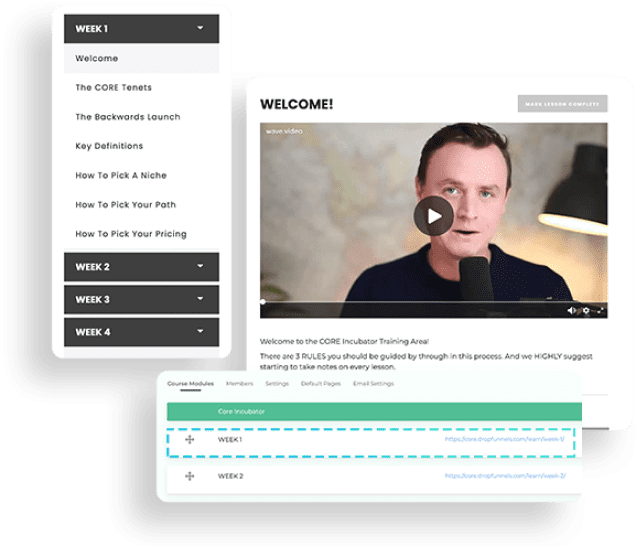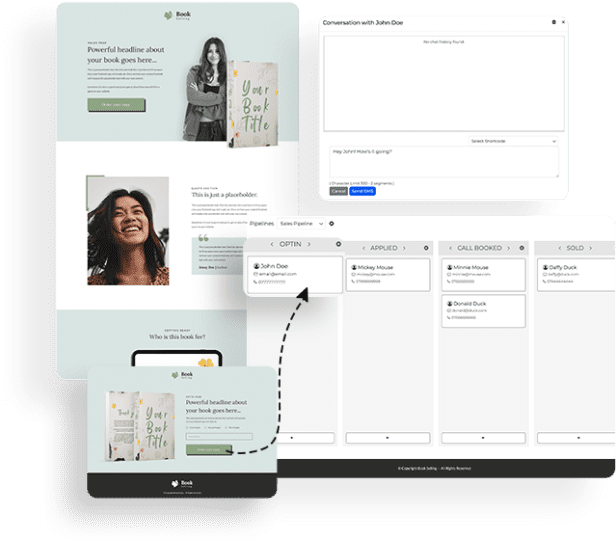 Automatic SMS and Email Sales Pipelines
Manage your leadflow and directly chat with your leads via text or email, all in one place.

Create dynamic sequences to automatically contact and move your leads through your sales process.

Integrates easily with Twilio SendGrid or SendinBlue.
They Love It...

And You Will Too!
"In just a few days, I migrated my websites and sales funnels, and I finally have the membership area I need... It's TRULY a GAME-CHANGER!"
"I love the fact that I can create UNLIMITED FUNNELS and pages and start getting SEO traffic again."
"When you get into DropFunnels, you don't just get the amazing platform, you also get the INCREDIBLE COMMUNITY."
"It's been nothing short of absolutely amazing since I switched over. It actually blows my mind how responsive they are."
"The page speeds on the backend when you're building your website...is absolutely MIND BLOWING"
"The pages load super fast...I can build UNLIMITED FUNNELS in there...and it's so much fun, super easy drag n' drop! "
"I've decided to migrate my entire personal website over to DropFunnels because it's really that all-in-one tool..."
"DropFunnels has taken the cake and weight off my shoulders when it comes to building things..."
"They've done it in about 1/10 the price of what people were paying before. We officially started moving over all our clients."
"Now my website is SUPER FAST...it has all the things I would possibly want and need inside a website."
"Don't put any more time into Clickfunnels...join Dropfunnels...stop thinking about it and do it."
"I made the mistake of going back to my old platform... what a bad mistake. I am now BACK in DropFunnels."
"I've used every single funnel builders and there's been some great ones, and there's been some not so great ones. But I've never gotten speed like this."
"Because of the loading speed, I have seen an increase in conversions already... if you're not using DropFunnels you really are missing out."
NOPE! Never. Unlike competitors, we do not charge a surplus percentage on your sales.
Nada. As one of our clients, we take care of everything so you can focus on growing your business. It's all included.
No sweat. If this isn't an insanely good deal that works for you, you can reach out and cancel at any time. No contracts to worry about.
Currently we offer a "one click" function for importing pages from ClickFunnels and there is standard WordPress import/export tools to bring over your WP pages. If you don't have either and you want it done for you, we have resources to help you. All users on our Ultimate Plan get a done-for-you funnel build for them, or we can match you up with a DropFunnels Expert!
On our Lite Plan, you can connect 1 domain to your account, while on our Starter Plan, you can connect 2 domains.
Yep! Our checkout process has the option of adding an order bump as well as unlimited upsells and downsells.
We provide native integrations for the big players in the autoresponder market, including ActiveCampaing, AWeber, Infusionsoft and more. We're also on Zapier, so you can connect with any other autoresponder on there.
We also have built-in, automated SMS follow up within our Pipelines functionality.
We'd love to see you upgrade! It means you're crushing it and we're obviously doing something right. It's as simple as going to into your account settings and choosing the plan that suits your needs.
Currently we are integrated with Stripe, NMI, Authorize.net, PayPal and, if Crypto is your jam, CoinPayments.
These autoresponders integrate seamlessly with DropFunnels: AWeber, ActiveCampain, Ontraport, MailChimp, InfusionSoft, Constant Contact, ConvertKit, Drip, Mailerlite, SendinBlue, and GetResponse.
While we aren't an Ecom platform, there are many store owners who are using DropFunnels funnel capabilities to sell their product offerings to increase their average customer value. You can always link out to your Shopify store from other pages in your site for those customers who would like to "shop".
Yes. Our Ultimate plan will allow you to manage up to 10 sites from a single account. See below for pricing.
Yes, drip functionality is available! Simply set the amount of time from the day they've purchased and they'll gain access to those lesson modules at that time.
Yes! Our Lead Quiz functionality will allow you create quizzes, surveys, and applications in order to pre-qualify your potential customers with an optional points based redirect.
Oh yeah. You get a free subdomain to use right away that looks like: yourname.dropfunnels.com. But you can also add your own domain anytime you'd like.
We have partnered up with First Promoter for a direct integration to add affiliate tracking to your funnels. To set this up, simply head to www.firstpromoter.com/dropfunnels!
Yes, my friend. Since we're built on WordPress (the same infrastructure that powers LITERALLY 43% of the entire internet…) your blog is built to help you rank fast and start collecting all that free organic traffic goodness.
Not at all. In fact, to avoid conflicts and site crashes, while increasing your site speed and ease-of-use, we have everything you need built in and do not allow adding rogue plugins.
We sure do! Having complete control is what DropFunnels is all about.
Yeppers. Our popup module can be controlled to fire on a variety of actions including exit intent.
With DropFunnels there are ZERO limits on everything except for traffic (which is determined by your account plan). So don't worry, we've got you covered.
You can, although we have a CRM of our own, complete with SMS follow up, and email follow up coming soon!
Yep, we sure are!
You can trigger actions based on leads, sales, courses, quizzes and more!
You can also create and update leads and course members in DropFunnels using Zapier.
Yep! As well supporting Vimeo, Wistia and YouTube, we have DropPlayer, meaning you can host your media directly in your DropFunnels account.
Yep! You can have various payment plan options for your product. Whether it's one-time, 3 month, 6 month. We've got you covered.
We also have a 'Pay What You Want' option where you, or your customer, can manually enter the amount to be billed on the checkout form, giving you full flexibility for taking payments.
Yes, coupon codes are available so you can discount your product to select customers.
Let's Get This Party Started